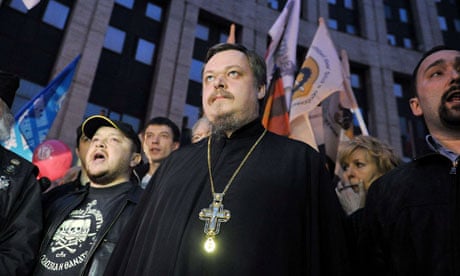 via Wikipedia:
[. . .]
Vsevolod Anatolyevich Chaplin was born on 31 March 1968 to the family of an agnostic professor of radio engineering Anatoly Chaplin (ru) . He went to school in Golyanovo, Moscow.[6]
After he finished secondary education in 1985, he joined the staff of the Publishing Department of the Moscow Patriarchate. On recommendation of Metropolitan Pitirim (other languages), he entered the Moscow Theological Seminary, graduating in 1990.
From October 1990 to March 2009, he was in the Department for External Church Relations (DECR) of the Moscow Patriarchate, beginning as an ordinary staffer (1990-1991) before moving into public affairs (1991-1997), then being secretary (1997-2001) and vice-president (2001-2009).[7] At the same time as being in the DECR, he continued studies at the Moscow Theological Academy, defending his thesis and graduating in 1994.
He was ordained to the diaconate on April 21, 1991, and to the priesthood on January 7, 1992. He was elevated to archpriest in 1999.
In 2009 he was appointed chairman of the newly created synodal department for the Cooperation of Church and Society of the Moscow Patriarchate.
On 24 December 2015, by the decision of the Holy Synod he was released from this position of head of the Department for the Cooperation of Church and Society, the latter being merged with the Information Department headed by Vladimir Legoyda (ru). Chaplin was also removed from the Interconfessional Council of Russia (other languages).[2][8]
Shortly after his dismissal, he gave a series of interviews which were sharply critical of Patriarch Kirill who he said would "not last much longer".[5][9][10]
[. . .]
Public statements
Fr Vsevolod's role as Chairman of the Department for the Cooperation of Church and Society means that he makes public statements on religion and ethics, including:
Relationship with Patriarch Kirill
Vsevolod Chaplin is one of the closest and loyal people of Kirill for many years, said the former Patriarch Alexy II, congratulating him with the birthday in 2008 year. They both were the main developers of The Basis of the Social Concept of the Russian Orthodox Church (ru).[35][36][37] The Australian Broadcasting Corporation calls Chaplin: "Patriarch Kirill's right-hand man" (2014 year).[38]